In recent years, healthcare organizations have increasingly become targets of cyberattacks and data breaches, which can lead to serious consequences such as compromised patient data, financial losses, and damage to an organization's reputation. This article will discuss some of the most common types of healthcare data breaches and provide suggestions for how organizations can protect themselves.

According to a Breach report by U.S. Department of Health and Human Services Office for Civil Rights, out of the 717 healthcare data breaches reported in 2022, 78.6% were due to hacking or IT incidents. Unauthorized access/disclosure accounted for 16%, while theft made up 3.2% of the breaches. These types of incidents have consistently been the most common type of breach, with ransomware attacks being a significant contributor to the rising number of cases each year.

The report also reveals that network server breaches accounted for more than half (57%) of healthcare data breaches in 2022, up from 26.2% in 2019. Breaches through email made up over 23,4%, while paper breaches accounted for approximately 6,5%.
Types of Data and Documents that are Vulnerable to Leaks in Healthcare
Healthcare organizations deal with a wide range of data and documents that are vulnerable to leaks. Some examples of sensitive data include:

-Personal Health Information (PHI)
-Electronic Health Records (EHR)
-Medical billing and insurance information
-Patient demographics
-Drug prescriptions and usage
-Clinical trial data

Some examples of documents that are vulnerable to leaks include:

-Patient medical records
-Health insurance claims
-Employee files
-Financial documents
-Contracts and agreements
-Intellectual property
How does information leak in the healthcare sector?
One⁠‍ ‌⁠of‌⁠ ‌⁠the⁠‌ ‌‌most‌⁠ ‍⁠common‌‍ ‍⁠types‍‍ ‍‌of‌‍ ‍‍‌‌healthcare⁠‍ ‌⁠data‌⁠ ‌⁠breaches⁠‌ ‌‌is‌⁠ ‍⁠unauthorized‌‍ ‍⁠access‍‍ ‍‌to‌‍ ‍‍‌‌patient⁠‍ ‌⁠information‌⁠.⁠‌ ‌⁠This‌‌ ⁠‌can⁠‍ ‍‌occur⁠‍ ‍‍when‌‍ ‍‌employees‌‌‍‍ ‍⁠access⁠‌ ⁠‌patient⁠‌ ‌⁠data‌‌ ⁠‌without⁠‍ ‍‌a⁠‍ ‍‍legitimate‌‍ ‍‌reason‌‌‍‍,⁠‍ ‌⁠or‌⁠ ‌⁠when⁠‌ ‌‌hackers‌⁠ ‍⁠gain‌‍ ‍⁠access‍‍ ‍‌to‌‍ ‍‍‌‌an⁠‍ ‌⁠organization‌⁠'s⁠‌ ‌⁠system‌‌.‌⁠ ‍⁠In‌‍ ‍⁠some‍‍ ‍‌cases‌‍,‌‌‍‍ ‍⁠these⁠‌ ⁠‌breaches⁠‌ ‌⁠can‌‌ ⁠‌be⁠‍ ‍‌prevented⁠‍ ‍‍by‌‍ ‍‌implementing‌‌‍‍ ‍⁠strong⁠‌ ⁠‌access⁠‌ ‌⁠controls‌‌,‌⁠ ‍⁠such‌‍ ‍⁠as‍‍ ‍‌limiting‌‍ ‍‍‌‌employee⁠‍ ‌⁠access‌⁠ ‌⁠to⁠‌ ‌‌sensitive‌⁠ ‍⁠data‌‍ ‍⁠and‍‍ ‍‌requiring‌‍ ‍‍‌‌multifactor⁠‍ ‌⁠authentication‌⁠ ‌⁠for⁠‌ ‌‌all‌⁠ ‍⁠logins‌‍.
Phishing‌‍ ‍⁠attacks‌‍ ‍⁠are‍‍‍ ‍‌another‌‌ ⁠‌‌common⁠‌ ‌⁠method‌‌ ⁠⁠used⁠‍ ‍‌by‌‍ ‍⁠hackers‌‍ ‍⁠to‍‍‍ ‍‌gain‌‌ ⁠‌‌access⁠‌ ‌⁠to‌‌ ⁠⁠healthcare⁠‍ ‍‌data‌‍.⁠‍ ‍‌These⁠‍ ‍‍‍attacks‌‍ ‌‌typically‌‌⁠ ‌⁠involve⁠‌ ‌‌sending⁠⁠ ‍⁠fraudulent‌‍ ‍‌emails⁠‍ ‍‌or⁠‍ ‍‍‍messages‌‍ ‌‌that‌‌⁠ ‌⁠appear⁠‌ ‌‌to⁠⁠ ‍⁠be‌‍ ‍‌from⁠‍ ‍‌a⁠‍ ‍‍‍trusted‌‍ ‌‌source‌‌⁠,⁠‌ ‌⁠such‌‌ ⁠⁠as⁠‍ ‍‌a‌‍ ‍⁠hospital‌‍ ‍⁠or‍‍‍ ‍‌insurance‌‌ ⁠‌‌company⁠‌.⁠‌ ‌‌To⁠⁠ ‍⁠protect‌‍ ‍‌against⁠‍ ‍‌these⁠‍ ‍‍‍attacks‌‍,‌‌ ⁠‌‌organizations⁠‌ ‌⁠should‌‌ ⁠⁠educate⁠‍ ‍‌their‌‍ ‍⁠employees‌‍ ‍⁠about‍‍‍ ‍‌the‌‌ ⁠‌‌risks⁠‌ ‌⁠of‌‌ ⁠⁠phishing⁠‍ ‍‌and‌‍ ‍⁠provide‌‍ ‍⁠training‍‍‍ ‍‌on‌‌ ⁠‌‌how⁠‌ ‌⁠to‌‌ ⁠⁠identify⁠‍ ‍‌and‌‍ ‍⁠avoid‌‍ ‍⁠these‍‍‍ ‍‌scams‌‌.
Another⁠⁠ ‌‍common‌‌ ‌‌healthcare‌‌⁠ ‍⁠data⁠‍ ‍‌breach⁠‍ ‍⁠is‌‍ ‍‍‌the⁠‍ ‌‌theft⁠⁠ ‌‍of‌‌ ‌‌mobile‌‌⁠ ‍⁠devices⁠‍.‌‍ ‍⁠Mobile⁠‍ ‍‌devices‌‍‍ ‍⁠are‌‌ ⁠⁠often‍‌ ‌‌used‌‌ ⁠‌‌to⁠‍ ‍⁠access‌‍ ‍⁠patient⁠‍ ‍‌data‌‍‍,⁠‍ ‌‌but⁠⁠ ‌‍they‌‌ ‌‌can‌‌⁠ ‍⁠be⁠‍ ‍‌easily⁠‍ ‍⁠lost‌‍ ‍‍‌or⁠‍ ‌‌stolen⁠⁠,‍‌ ‌‌putting‌‌ ⁠‌‌sensitive⁠‍ ‍⁠information‌‍ ‍⁠at⁠‍ ‍‌risk‌‍‍.⁠‍ ‌‌To⁠⁠ ‌‍mitigate‌‌ ‌‌this‌‌⁠ ‍⁠risk⁠‍,‌‍ ‍⁠organizations⁠‍ ‍‌should‌‍‍ ‍⁠implement‌‌ ⁠⁠policies‍‌ ‌‌and‌‌ ⁠‌‌procedures⁠‍ ‍⁠for‌‍ ‍⁠the⁠‍ ‍‌secure‌‍‍ ‍⁠use‌‌ ⁠⁠of‍‌ ‌‌mobile‌‌ ⁠‌‌devices⁠‍,⁠‍ ‍‌including⁠‍ ‍⁠password‌‍ ‍‍‌protection⁠‍,‌‌ ⁠⁠encryption‍‌,‌‌ ‌‌and‌‌⁠ ‍⁠remote⁠‍ ‍‌wiping⁠‍ ‍⁠capabilities‌‍.
Finally‌‌‍‍,⁠‍ ‌⁠ransomware‌⁠ ‌⁠attacks⁠‌ ‌‌have‌⁠ ‍⁠become‌‍ ‍⁠increasingly‍‍ ‍‌common‌‍ ‍‍‌‌in⁠‍ ‌⁠the‌⁠ ‌⁠healthcare⁠‌ ‌‌industry‌⁠.⁠‍ ‍‌Ransomware⁠‍ ‍‍is‌‍ ‍‌a‌‌‍‍ ‍⁠type⁠‌ ⁠‌of⁠‌ ‌⁠malware‌‌ ⁠‌that⁠‍ ‍‌encrypts⁠‍ ‍‍an‌‍ ‍‌organization‌‌‍‍'s⁠‍ ‌⁠data‌⁠ ‌⁠and⁠‌ ‌‌demands‌⁠ ‍⁠payment‌‍ ‍⁠in‍‍ ‍‌exchange‌‍ ‍‍‌‌for⁠‍ ‌⁠the‌⁠ ‌⁠decryption⁠‌ ‌‌key‌⁠.⁠‍ ‍‌To⁠‍ ‍‍prevent‌‍ ‍‌ransomware‌‌‍‍ ‍⁠attacks⁠‌,‌⁠ ‌⁠organizations⁠‌ ‌‌should‌⁠ ‍⁠regularly‌‍ ‍⁠back‍‍ ‍‌up‌‍ ‍‍‌‌their⁠‍ ‌⁠data‌⁠ ‌⁠and⁠‌ ‌‌implement‌⁠ ‍⁠strong‌‍ ‍⁠cybersecurity‍‍ ‍‌measures‌‍,‌‌‍‍ ‍⁠such⁠‌ ⁠‌as⁠‌ ‌⁠firewalls‌‌ ⁠‌and⁠‍ ‍‌intrusion⁠‍ ‍‍detection‌‍ ‍‌systems‌‌‍‍.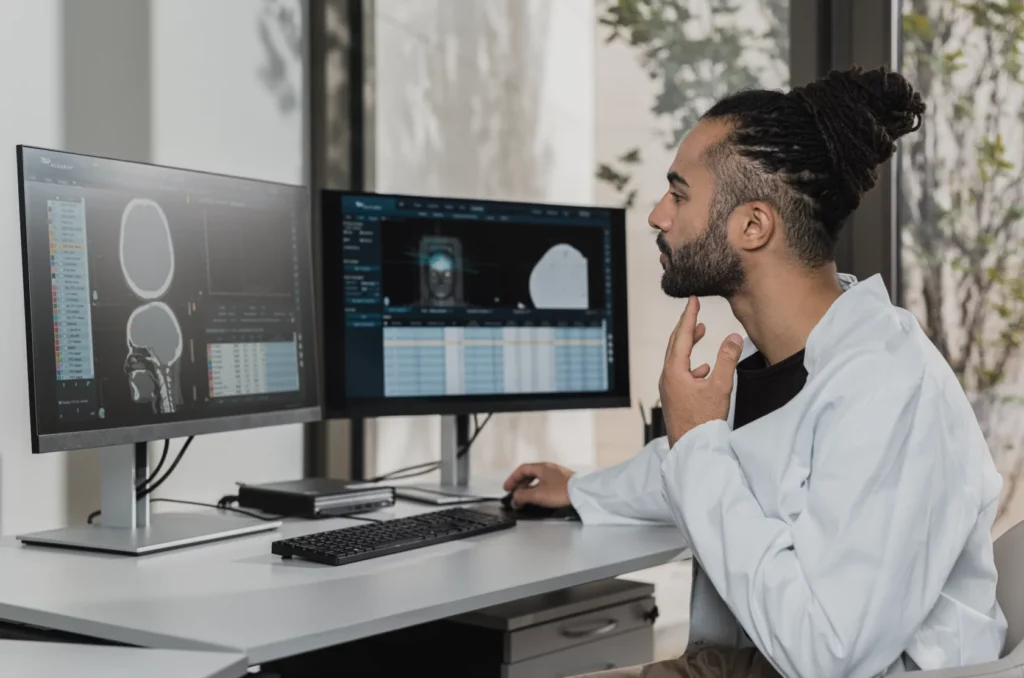 Examples of Document Leaks/Breaches in Healthcare
Document leaks and breaches have occurred in several high-profile cases in the healthcare industry.

Here are some examples:

-Anthem Inc. (2015): The health insurer suffered a data breach that affected over 80 million customers. The breach resulted in the theft of personal information, including names, social security numbers, and medical IDs.

-UCLA Health (2015): A data breach exposed the personal and medical information of 4.5 million patients. The breach was attributed to a cyberattack that compromised the hospital's network.

-Community Health Systems (2014): Hackers stole the personal data of 4.5 million patients, including names, addresses, and social security numbers. The breach was attributed to a group of Chinese hackers.
Investigation of Healthcare Data Breaches
Healthcare‍ ⁠data‌ ‍breaches‌ ‌have⁠ ‌been⁠ ⁠increasing‍ ‍every⁠ ‍‍year‍,⁠ ‌with‍ ‌a‌ ⁠significant‌ ⁠jump⁠ ‍from‍ ⁠329‍‍ ‍breaches⁠ ‌reported‍ ‌in‌ ⁠2016‌ ⁠to⁠ ‍715‍ ⁠in‍‍ ‍2021⁠.‌ ‍Before‌ ‌2019⁠,‌ ⁠there⁠ ‍were‍ ⁠500‍‍ ‍or⁠ ‌fewer‍ ‌breaches‌ ⁠reported‌ ⁠annually⁠.‍ ‍However⁠,‍‍ ‍since⁠ ‌2020‍,‌ ‌the⁠ ‌number⁠ ⁠of‍ ‍reported⁠ ‍‍breaches‍ ⁠has‌ ‍exceeded‌ ‌650⁠ ‌each⁠ ⁠year‍.‍ ⁠As‍‍ ‍of⁠ ‌January‍ ‌2023‌,⁠ ‌the⁠ ⁠reported‍ ‍number⁠ ‍‍of‍ ⁠reported‌ ‍healthcare‌ ‌data⁠ ‌breaches⁠ ⁠in‍ ‍from⁠ ‍‍2022‍ ⁠was‌ ‍nearing‌ ‌717⁠,‌ ⁠with⁠ ‍new‍ ⁠incidents‍‍ ‍from⁠ ‌the‍ ‌previous‌ ⁠year‌ ⁠expected⁠ ‍to‍ ⁠be‍‍ ‍reported⁠ ‌throughout‍ ‌early‌ ⁠2023‌.⁠ ⁠
It‍ ‍is⁠ ‍‍also‍ ⁠interesting‌ ‍to‌ ‌note⁠ ‌that⁠,⁠ ‍according‍ ⁠to‍‍ ‍a⁠ ‌study‍,‌ ‌out⁠ ‌of⁠ ⁠the‍ ‍715⁠ ‍‍breaches‍ ⁠reported‌ ‍in‌ ‌2021⁠,‌ ⁠only⁠ ‍519‍ ⁠‍‍(73‍,5⁠%‌)‍ ‌have‌ ⁠been‌ ⁠investigated⁠,‍ ‍with⁠ ‍‍the‍ ⁠remaining‌ ‍196‌ ‌still⁠ ‌under⁠ ⁠investigation‍.‍ ⁠The‍‍ ‍situation⁠ ‌is‍ ‌even‌ ⁠worse‌ ⁠for⁠ ‍breaches‍ ⁠in‍‍ ‍2022⁠,‌ ‍where‌ ‌more⁠ ‌than⁠ ⁠80‍,8‍%⁠ ‍‍‍(580⁠)‌ ‍of‌ ‌all⁠ ‌cases⁠ ⁠are‍ ‍still⁠ ‍‍under‍ ⁠investigation‌.
How to Cope with Leaks of Data in Healthcare
Preventing document leaks and insider threats requires a multi-pronged approach. Healthcare organizations should implement the following measures to reduce the risk of data breaches:

-Employee training and awareness: Healthcare organizations should provide regular training and education to employees on best security practices, including password management, data encryption, and secure document sharing.

-Access control: Healthcare organizations should limit access to sensitive data and documents to authorized personnel only. Access should be granted based on the principle of least privilege.

-Data encryption: Healthcare organizations should encrypt sensitive data and documents to protect them from unauthorized access.

-Secure document sharing: Healthcare organizations should use secure document sharing tools that provide end-to-end encryption and user authentication.

-Monitoring and detection: Healthcare organizations should monitor network activity and implement intrusion detection systems to identify and respond to potential threats.
LeaksID On-Prem Solution for Secure Document Sharing in Healthcare
Another tool that can help healthcare companies is the LeaksID solution. This is an on-premises solution that provides secure document sharing and storage for healthcare organizations. With LeaksID, you can create protected digital environments and securely share documents and files with medical organizations, patients, healthcare providers, payers, and third-party entities.
In addition, LeaksID can be integrated into email, so all attachments sent (including confidential information) will be protected by a special invisible LeaksID marking. This way, each recipient of an email will receive a personalized copy of the document. If someone decides to compromise the document by taking a photo or screenshot and sharing it online, the marking that was added to the personalized document beforehand can be used to determine the source of the leak and who leaked the document. Furthermore, LeaksID can be useful when integrated with a print server, as all documents printed in the company will also be marked to create additional protection. Moreover, LeaksID can help close the majority of unfinished investigations, as its investigation module allows for easy identification of who leaked a document, even with just a photo or fragment of a leaked printed document.
In conclusion, healthcare organizations face a significant threat from cyberattacks and data breaches, which can result in serious consequences such as compromised patient data, financial losses, and damage to an organization's reputation. The most common types of healthcare data breaches include hacking or IT incidents, unauthorized access/disclosure, and theft. Protecting sensitive data and documents in the healthcare industry requires a multi-pronged approach that includes employee training and awareness, access control, data encryption, secure document sharing, and monitoring and detection. As the number of healthcare data breaches continues to rise, it is essential for organizations to stay vigilant and proactive in their efforts to prevent and respond to these threats.