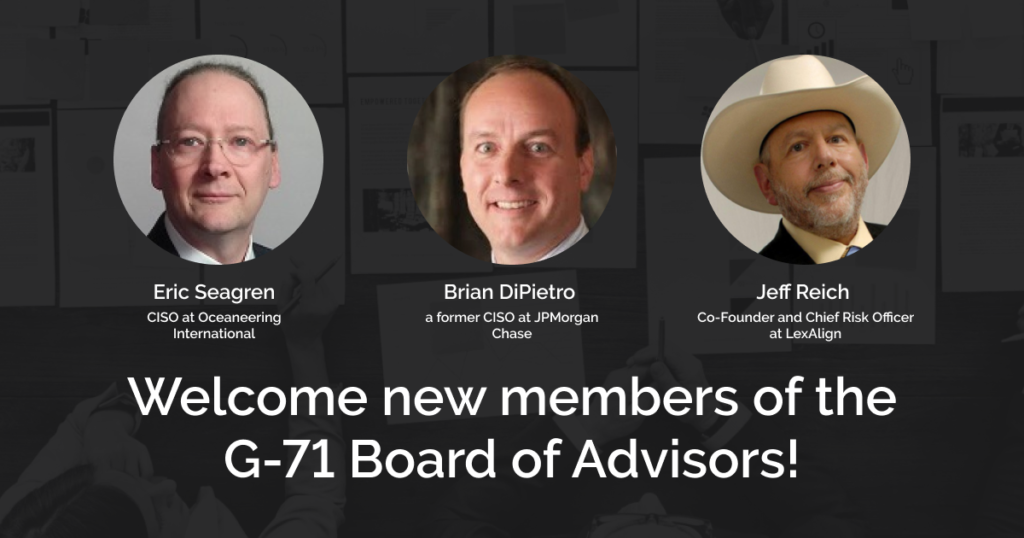 We're delighted to share that Brian DiPietro, the former Chief Information Security Officer at JPMorgan Chase with over 16 years of experience, Eric Seagren, the Chief Information Security Officer at Oceaneering International, and Jeff Reich, the Co-Founder and Chief Risk Officer at LexAlign, joined the G-71 Board of Advisors. All three executives are exceptional leaders with a long track record of upgrading the information security systems of some of the most recognizable corporate brands.

Brian DiPietro brings over two decades of experience in building and leading global teams of scale, centered on relentless execution and risk mitigation. Previously, as the Managing Director Information Security/CISO at JPMorgan Chase with over 16 years of experience, he was responsible for driving all cyber and technology controls initiatives for the Consumer and Commercial businesses, leading all communications with external regulators and internal auditors and interacting with external clients across industry segments on cyber security facts and industry trends. Brian is also the owner of a CISSP certification, International Information Systems Security Certification Consortium (ISC2).

Eric Seagren has over 25 years of experience in IT, and, as a published author he is well-versed in a variety of industries and IT disciplines with multiple publishing credits and technical certifications including CRISC, CISA, CISSP-ISSAP. Eric currently serves as the Chief Information Security Officer at Oceaneering International. Formerly, he was a specialist at Stewart Transaction Solutions and J.P. Morgan Chase & Co., where he managed IT risk for the Central Technology & Operations (CTO) organization by weighing technical risks against the business objectives and educated business stakeholders at various levels. Eric focuses on creating security policies and solutions that respect the business needs and operational requirements of the organization. Eric holds a Bachelor of Science in Business: Information Systems.

Jeff Reich has been working in security for over 40 years, building and leading high-performance teams by identifying and developing high-potential leaders at all levels of an organization. Jeff currently serves as the Co-Founder and Chief Risk Officer at LexAlign and additionally as Senior Information Security Instructor at the Center for Infrastructure Assurance and Security, delivering executive courses that educate National Guard General Officers and minor business executives to support cybersecurity programs and growth. Building successful programs dealing with challenging problems, delivering prevention, recovery, and turnaround solutions to organizations is what Jeff focuses on. In 2015, he was inducted into the ISSA Hall of Fame. Jeff holds CISSP certification from (ISC) 2, CRISC certification from ISACA. Moreover, he was granted a Foundation Certificate in IT Service Management from The Council for Service Management Education and The Information Systems Examination Board.

We're thrilled Brian, Eric and Jeff are joining us on our mission of designing a more secure way of deterring data leaks. Their extensive experience will help us make G-71 and its flagship product LeaksID better, more user-friendly, innovative and responsive to today's consumers and businesses.

Welcome to the G-71 family Jeff, Eric and Brian!